Boost Hand & Eye Coordination, Colour Recognition, and Develop Fine Motor Skills in your Child/Grandchild.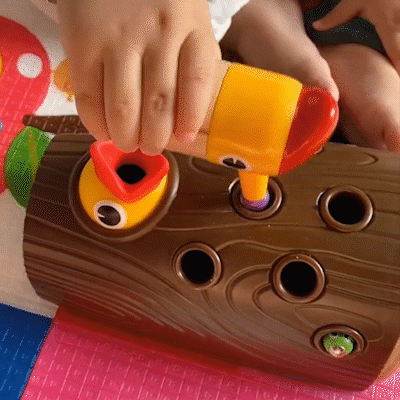 Improves Counting Skills and Practical Ability.
Features:
It help kid develop skills
Made from ABS Material
Adds more to Child and Family Interaction
Perfect Gift for all occassions
Parent-child interaction plays a very important roles in parent-child relationships. Catching caterpillars and feeding fledgling together with your kinds can promote the relationship between you.
Catching and Feeding Game is specially designed for children. The woodpecker is in the right size for a child's little hand.
Magnetic Woodpecker Toy is made from ABS material which is harmless and no taste. High quality material with smooth surface, edges and curves will all protect your kids' safe play, Preschool Toys.
Playing Catch Caterpillar Game can develop children's fine motor development, color recognition, counting skills and practical ability.
Specifications:
Material: high quality ABS plastic, magnetic
Size: The shell is about 21 x 10.5 x 8cm, the details are shown in the picture
Color: Colorful
Our Previous Buyers